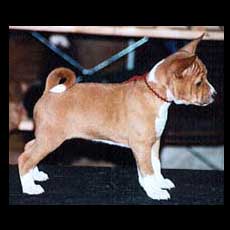 Celebrating Rita!
"Rita" is a true breeder's keeper representing the 6th generation at Taji.
Proving that pinnacle quality endures over time, Rita finished her championship with 18 points and four majors at age 2-1/2 shown exclusively by me at Specialties and only from the fiercely competitive Bred-By-Exhibitor Bitch class.

Besides her adorable personality, I admire Rita's effortless gait, abundant wrinkles, small hooded ears, dark far-seeing almond eye, and notable cushion. She's a real show pleaser.
Linebred upon Taji with ¼ Australian stock and 1/16 new African stock
AKC registration #HP080218/02
DOB: 12/10/03
Hips rated "Good" OFA #BJ-1789G32F-PI
Now that Rita is finished, we will taste other venues of play and competition to enjoy together. In the meantime, she'll be my beloved pet as I try to refrain from spoiling her.
Photos shown were taken at 6 weeks, 4 months, and at shows listed below:
2007 EBC Specialty Award of Merit under breeder-judge, Chuck Bagnell
2006 Hoosier Basenji Club Specialty Winners Bitch
under breeder-judge, Terri Gavaletz - 5 points
2006 WVBC Summer Specialty Best Bred-By-Exhibitor in Show
as well as Winners Bitch and Best of Winners
under hound-specialist, Carol Spritzer - 4 points
2006 BCONC Spring Specialty Winners Bitch and Best of Winners
under breeder-judge, Chuck Bagnell - 4 points
2005 EBC Best in Maturity
under breeder-judge, Sue Kite
2005 BCONC Spring Specialty Best Puppy in Sweepstakes
under breeder-judge, Terri Gaveletz
2005 BCONC Spring Specialty Reserve Winners bitch
under breeder-judge, Cheryl Myers-Edgerton
2004 BCONC Fall Specialty Winners Bitch and Best of Winners
under breeder-judge, Diane McCarty - 5 points
2004 BCONC Fall Specialty Puppy Sweepstakes BBEB class winner
under breeder-judge, Kathy Jones
2004 EBC Best Bred-By-Exhibitor in Show
under breeder-judge, Marianne Klinkowski
2004 WVBC Summer Specialty Best Puppy in Sweepstakes
under breeder-judge, Julie Jones
2004 WWHA Best in Match
under hound-specialist/judge, Sandy Frei
Rita whelped a litter of 7 (2M/5F) on 12/02/07 sired by our Group placing "Bristow" CH TAJI PLATINUM MAN OF ACTION, (link at left) consisting of:

1-R/W male
1-R/W female
1-Tri male
1-Tri female
3-B/W females
Inquiries are welcome for this exciting litter that has been ACVO/CERF and also Fanconi tested for buyer assurance. Fanconi testing was run on the entire litter with no p.Affecteds as we would expect at Taji. Three of the puppies were determined to be p.Carriers and were all placed in spay/neuter homes. One p.Clear puppy was placed in a companion home as three of his littermates superceded him in breeding potential quality. All three of our conformation quality Keepers were tested as p.Clear. In line with CPP protocol, test results will be publicly posted as the puppies become AKC registered by their owners (I like for the owners to have a say in what the name is rather than me dictating that upon them.) CPP paperwork is available, of course, upon request!
Pedigree:
Ch Zuri's Nassor Nantambu
Sire: Ch Taji's Happy Hour
Taji Star in Stripes Furever (¼ new African)
CH TAJI'S MARGARITA WITH SALT
Helios Taji Aussie Rules (imp AU)
Dam: Can Ch/Am DC Taji's Spice Girl, SC, RN, CGC
Ch Taji's Cinnamon Swirl, BBHR