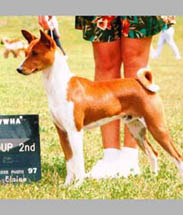 Personal Profile:
Imported from Denise Doyle of Helios Basenjis in Camperdown, Australia
DOB: 06/21/96
DOD: 07/23/06 at 10+ years of age to heat stroke
AKC Registration #HM668404/01
Victoria Australia Kennel Club Registration VCA#V1612198
Major pointed in the US towards his AKC CH
Sired 4 champions to date with others very close to finishing, plus multiple champion grandkids
Playful, happy-go-lucky dog
For the last 7 years of his life, Rugby lived with and was loved by Dianne Grimes and family in Poulsbo, Washington
Hips OFA "Excellent" BJ-1698E113M-PI
Eyes CERF BJ-1280/2006--115
Stripped tested regularly, consistently negative through death
I have documentation of Rugby's lineage in Australia being long lived and healthy.
Rugby was never collected. He is survived at Taji through his progeny.
Pedigree:
AU Ch Helios Toucan Tap
Sire: MBISS AU Ch Helios Rocky Royale, SDHR
AU Ch Makuba Al Sheree
HELIOS TAJI AUSSIE RULES
AU Ch Afrika Art Nouveau
Dam: MBIS/MBISS AU Ch Helios Lady O'the Nile, BBHR
Helios Ranee Royale